Your State Officer Team
Nevada FCCLA Officers are elected by their peers at the State Leadership Conference and represent Nevada's membership. The State Officer team develops a program of work aligned to the strategic goals of Nevada FCCLA. Throughout the year the team interacts with the membership to implement and enhance FCCLA's programs. Nevada State Officers are available to attend your events.
If you would like to join the State Officer Team, please apply!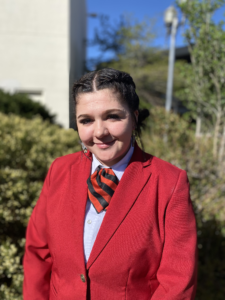 Nia Anderson
Nia Anderson is a senior at Southwest Career and Technical Academy and your Nevada FCCLA 2021-2022 President. A member since her freshman year, Nia earned three gold medals at state, two silver medals at nationals and a place on the FCCLA National Honor Roll. Nia aspires to attend Washington DC's Historically Black University, Howard University, to study Fashion Design and business. She misses the snow, and believes the East Coast is where she should be! After college, Nia aspires to open her own boutique focusing on environmentally sound processes. She found her love for the world and saw the magic within it through her very first state event, Illustrated talk! Now Nia has a special appreciation and adoring love for the Earth and what it has withstood. Nia intends to empower young black and brown women through her business by employing black and brown women, making clothes for black and brown women, and supporting black and brown communities. Nia Anderson values diversity, love, and family. Family, to Nia, can be found, born into, or created. Nia has found a family within FCCLA, which has pushed her to reach beyond her limits and open her mind. Nia Anderson believes there is no better place or organization to be a part of than FCCLA, and she is honored to be the president of Nevada FCCLA.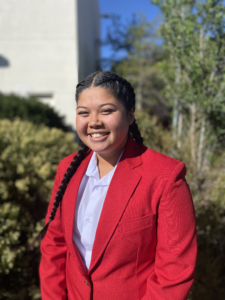 Vice President of Public Relations
Cheyann Thomas
Cheyann Thomas, VP of Public Relations, is a fashion design student at SWCTA as Junior, and will be an senior this fall. With hope of engaging in activities that contribute towards her future, Cheyann has been an active member in FCCLA since the 10th grade. She participated in FCCLA state events each year since, walking away with two silver medals in Star Events and Gold in her PEP Events. Cheyann will attend college, but has yet to narrow her choices, although she does have a few in mind. Regardless of this, she is certain that she will pursue either a Fashion Design Major or a Psychology major. Cheyann's career goal is not clear just yet but she is aiming toward working in the aspect of business and economics. Being the go-getter that she is, she is aspiring to attain a Bachelor's degree, then go back and achieve her graduates degree to better her education for her future. As a member in FCCLA this club has helped Cheyann identify and achieve these goals and she looks forward to another fantastic year in Nevada FCCLA!
Vice President of Development
Addie Comstock
Addie Comstock, a Senior at Carlin High School, is a very hardworking, persistent student, athlete, and leader. She has been involved in many sports and extracurricular activities including fall and winter cheer, volleyball, basketball, softball, Student Council, STEM, Robotics, Quiz Bowl, and Publications. She served as her school's student body Vice President for two years, 2020-2022, she is her FCCLA Chapters President from 2020-2022 and she was her 2020-2021 basketball teams team captain. This is her fourth year being a member of FCCLA and her second year serving as a state officer, she is currently serving as Nevada FCCLA Vice President of Development. While in FCCLA she has scored first place silver in Event Planning at state and Silver at Nationals during her first state conference in 2019, the following year she ran as state officer, being elected as the 2020-2021 VP of Public Relations, and competed in Teach and Train scoring gold. She attended the Virtual National Conference but did not compete in any event, last year at our Virtual SLC she solely ran as a state officer, landing her position of VP of Development. After high school Addie plans to attend Oregon State University, majoring in elementary education. Once she graduates she wants to move to a small town and become a first grade teacher, her goal is to not only teach her students the curriculum but also teach them they are loved, especially the kids who may not be getting a lot at home, and give those children at least a couple hours of peace and love.
Addie lives by the quote "I Never Dreamed About Success, I Worked For It" by Estes Lauder, because although you can be handed amazing opportunities in your life if you do not put the work in to make those goals happen you will just be left with wasted potential.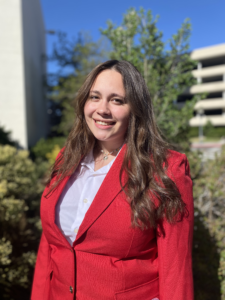 Vice President of Community Service
Leona Dominguez-Mueller
Leona Dominguez-Mueller is a third-year member of FCCLA, the Vice President of Community Service and will be a senior in during the 2021-2022 school year at the Academy of Arts, Careers, and Technology. Her hobbies include making music, playing instruments, watching Netflix (probably too much), reading, and Mixed Martial Arts (MMA) fighting. She is an avid animal lover, environmentalist, and obsessed with all things Star Wars and Marvel. Her passion for service is deeply rooted, and she strives to make the world a better place in any accessible way. She has done volunteer work with Project 150, the Children's Cabinet, charity:water, local churches, the National Honor Society, and senior centers. Through FCCLA, she has served twice as a chapter manager, as the Nevada State President from 2020-2021, received two gold medals in STAR events, and received a President's Volunteer Service Award. She plans on attending Princeton University to dual major in Criminal Justice and Psychology, eventually obtaining a PhD in psychology, and working for the FBI. Everyday FCCLA provides her new skills to become a better leader, and these opportunities are useful for everyone pursuing all kinds of life paths!